3 types of Instagram ads and the types of content you should use today!
Instagram is a marketing channel that's taken the world by storm. Whether you're 15 or 48, you're most likely on Instagram. The graphic below by Sprout Social details the wide range of demographics that are on Instagram.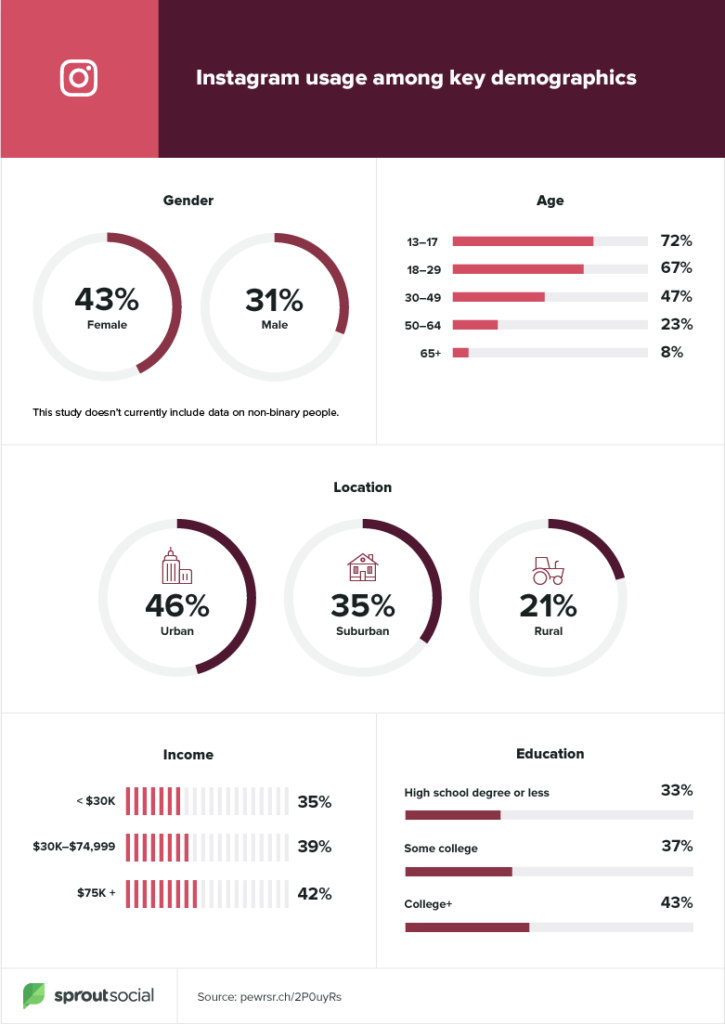 Types of Ads
It's no surprise that every business regardless of vertical is jumping on the Instagram train to find their audience. While we know that organic posts on Instagram are important, we also know that ads can be extremely effective for businesses. An Instagram ad is a post that a business pays to promote. The ads will look very similar to other Instagram posts, but have a "Sponsored" label or a CTA button at the bottom. There are several types of Instagram Ads including story ads, photo ads, video ads, carousel ads, collection ads, explore ads, IGTV ads, and Instagram shopping ads. Many small businesses tend to gravitate towards image-based ads for their advertising. While these can be effective, video ads have shown to generate more conversions. This illustrates the importance of using the right type of ad with the right type of content to ensure each of your followers moves closer to a conversion. We recommend trying three different types of ads:
Instagram Story Ads are full screen ads that pop up in between users' stories. 500 million Instagram users use the stories feature every day! That's a huge possible audience for you to reach!
Video Ads appear in the viewer's feed and can be up to one minute long, so they give your followers a chance to find out a lot about your branding and business.
Instagram Shopping Ads take shoppers directly to a product description page within the Instagram app. They can then purchase through your mobile website.
Content Suggestions
The type of content that we would recommend using in a story ad or video ad might include a listing of the key benefits or features of your product/service or showcasing the product you're promoting. We also really like video ads that feature user reviews of your product/service or a demo of your product in the real world. You may also want to draw attention to your brand by producing story or video ads for holidays or other events throughout the year. To make the most out of this concept, always keep a marketing calendar that lists upcoming business events so that you can easily pull from that content.
For shopping ads, one way to encourage conversions is through user generated videos. If you have a good following ask your followers to share a video of them using a specific product. With their permission, use their videos for shopping ads to build authority and credibility for your brand. Marketers say that user-generated content has a 4.5% higher conversion rate, so it's a great way to add more variety to your Instagram strategy and make sure you reach your goals.
In terms of video length, we as people have a shorter attention span more than ever before, so keep it short and simple and make sure you include branding in the first few seconds of the ad and in the call to action at the end of your video. In addition, Movidmo allows you to easily brand your video with logos for this purpose. Movidmo also allows you to add attention grabbing animated text captions that will help you tell your story in a professional way.
Goals and Measurables
The above types of Instagram ads can be used for a variety of goals including brand awareness, website traffic, conversions and lead generation. Keep an eye on the reach of your ad along with the number and length of video views. It's important to see how these quantities relate to the goals that you have in mind. In many cases, you may want to try video ads with different types of content to see what works best in terms of meeting your business objectives.